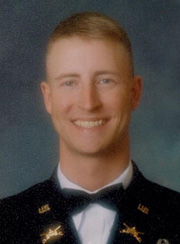 ­ U.S. Army Captain Joshua T. Byers,
formally decorated for his military excellence and known among those
closest to him for his deep commitment to faith, family and country, was killed in action in Iraq, Wednesday, July 23, 2004.
Following one of the greatest successes of the war on terrorism with the
death of Saddam Hussein's sons, Captain Byers was on route near Baghdad
when his vehicle was struck by a remote-controlled bomb killing him and
severely wounding others.
Assigned only 40-days prior to his death as the company commander to Fox
Troop, 2nd Battalion, 3rd Armored Cavalry Regiment, based in Fort Carson,
CO, Captain Byers was an Army Ranger and did special operative missions.
The Cavalry unit in which he served is the most decorated in the Army.
"Josh was our hero," says his youngest brother, Jared. "He risked his
life everyday and would not have had it any other way. Josh loved his family
more than anything in the world, and he loved his country. I know that he
felt a calling from God for his service, and God made him a hero, not just
in his death, but his whole life."
Early in his life, Captain Byers knew he wanted to be in the military.
After joining the ROTC program in high school, attaining the highest rank
possible, Commander, as well as being named high school class president,
Byers later attended the prestigious United States Military Academy (USMA)
at West Point, graduating in 1996 with high honors.
Following graduation from USMA, Josh completed Airborne and Ranger
Training. His first post was at Fort Stewart, GA from where he was deployed
for six months to Kuwait in 1998. He and his wife, Kim, then moved to Fort
Leonard Wood, MO where he completed his Officer Advanced Course training
and received a Masters in Engineering degree graduating with honors at the top
of his class from the University of Missouri Rolla. The couple then moved
to Fort Carson, CO and Josh was assigned to the General's staff. He soon
became Aide-de-Camp to Commanding Major General Charles Campbell.
"General Campbell called our parents this week to tell us how much he
loved Josh and said that there was not a better soldier anywhere," says Milam
Byers. "There have been numerous reports about how Josh's actions have
saved many lives. We have been told that one time he saved 100 soldiers
that were in harm's way. Another soldier had a family member call Kim to
let her know that Josh saved his life three times! Josh would tell us "I
know I'm on the front lines too much, but I love my troops, I love my men
and I love my country. I'm going to do all I can to make sure they come
home safely."
Captain Byers' commander, Lt. Col. Toby Green, was quoted as saying that Josh was
"universally loved in the squadron . Josh was a great pick-me-up all the
time. His dream was to become a company commander of a Cavalry Unit,"says
Jared.
"While in Iraq, he became company commander of the Fox Troop, one of the
best Cavalry units in Iraq with 140 troops under his command. He was so
proud to be chosen to be commander of this unit. He also did a lot of the
volunteer work on his own to help his country, risking his life everyday."
"While in Iraq, he told us how a child whose father was just killed was
crying for her mother,"continues Jared. "Josh scooped the girl into his
arms and held her safe until he could locate her mother. Another time
Josh went out into a minefield to rescue an Iraqi boy. A fearless soldier
respected by his troops, Josh also loved children. He and his wife were
hoping to have children of their own when he returned from Iraq."
Captain Byers' wife, Kim, said , "In every letter he would write about how much he loved command. It was his dream. It was what he felt he was born for. He would say, Oh! I love my soldiers: I would do anything for them."
"Over the last few weeks, he said that he was worried about us here in the states forgetting about our soldiers. Many of us think that the war was over and won when our troops
reached Baghdad, but Josh reminded us that, really, the war had just begun
and that brave men are laying down their lives everyday."
Giving up his life at 29, Captain Joshua T. Byers' last and
greatest gift fell on his mother's birthday. Captain Byers is survived by
his wife of 5 years, Kim, his parents Lloyd and Mary Byers, who are
missionaries to Guam, and brothers Milam and Jared.
Halfway down the trail to Hell,

In a shady meadow green,

Are the Souls of all dead troopers camped,

Near a good old-time canteen,

And this eternal resting place Is known as Fiddlers' Green.
Marching past, straight through to Hell the Infantry are seen.

Accompanied by the Engineers, Artillery and Marines,

For none but the shades of Cavalrymen Dismount at Fiddlers' Green.
Though some go curving down the trail
To seek a warmer scene,
No trooper ever gets to Hell Ere he's emptied his canteen,
And so rides back to drink again With friends at Fiddlers' Green.
So when man and horse go down beneath a saber keen,
Or in a roaring charge of fierce mêlée You stop a bullet clean,

And the hostiles come to get your scalp,

Just empty your canteen,
And put your pistol to your head
And go to Fiddlers' Green.