Don't ever let it be said I don't get into the Christmas spirit.
It just doesn't always last through all the "Christmas cheer."
I did buy a Christmas tree today for the first time in
forever
. The picture after the jump.
~~Code Monkey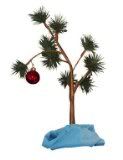 That happens to be the tree I always wanted to take home when I was a kid. As an added bonus, it fits on top of my computer. It's perfectly perched above my monitor.